Subscription commerce solutions provider selected for work as a Customer Success Market Leader
CHICAGO/COLOGNE, Germany (July 11, 2022) – cleverbridge, a front runner in global commerce and subscription billing for B2B and B2C organizations, announces Featured Customers has once again named the company to be featured as a Market Leader in their upcoming Summer 2022 eCommerce Platforms Customer Success report.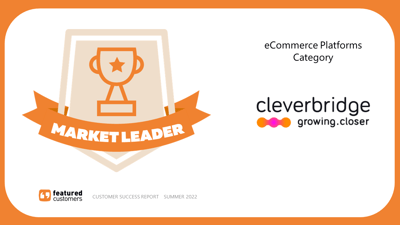 Market Leaders are categorized as vendors with a substantial customer base and market share with the highest ratio of customer reference content, content quality score, and social media presence relative to company size.
The Customer Success Report offers software and SaaS vendors clear insight on which subscription billing provider would work best for their business according to real customer references. The report is based on more than 1,900 pieces of verified customer reference content. A vendor's overall customer success score is reached via a weighted average of their content, market presence, and company scores. This is the second consecutive report cleverbridge has been selected.
About cleverbridge   
cleverbridge provides subscription-renewals through personalized automation for B2B & B2C clients in SaaS, digital goods while providing solutions for revenue growth without adding headcount. Headquartered in Cologne and Chicago and founded in 2005, cleverbridge provides an easy-to-integrate, cloud-based and AI/ML driven engine that simplifies client-retention and market expansion. All of this is done while providing best-in-class customer experience with proven global tax-, compliance-and payment solutions in 180 global markets.
For more information visit our website and follow us on Twitter.
About FeaturedCustomers:
FeaturedCustomers, the world's only customer reference platform for B2B business software and services, helps potential B2B buyers research and discover business software and services through vendor validated customer reference content such as customer testimonials, success stories, case studies, and customer videos. Every day the platform helps influence the purchasing decisions of thousands of B2B buyers in the final stages of their buying cycle from Fortune 500 companies to SMB's.
For more information, visit their website here.
Media Contact
Logan Monday
cleverbridge
logan.monday@cleverbridge.com