B2B buying today is broken. But the good news is we are not just ready to repair, but to renovate. The B2B buying process is getting an extreme makeover. Quote-to-cart, subscription engines, and renewal retention solutions are paving the way by removing friction from B2B buying experiences. Now it's time to move up the funnel.
Everyone knows that B2B buyers now expect the same personalized, straightforward level of service that they get with a B2C experience. Enter conversational marketing… With conversational marketing you can engage with your customers in real time with personal conversations at the right time – using a friendly AI-powered bot that knows exactly how to lead your customers to success.
Forget forms and lengthy follow-up flows. With conversational marketing you build trust from the start because you are there, personalizing the experience, answering the questions your prospects want answered and leading them in the right direction. Quite simply, you can remove friction from the B2B buying process and accelerate your entire deal cycle, from first visit all the way to close.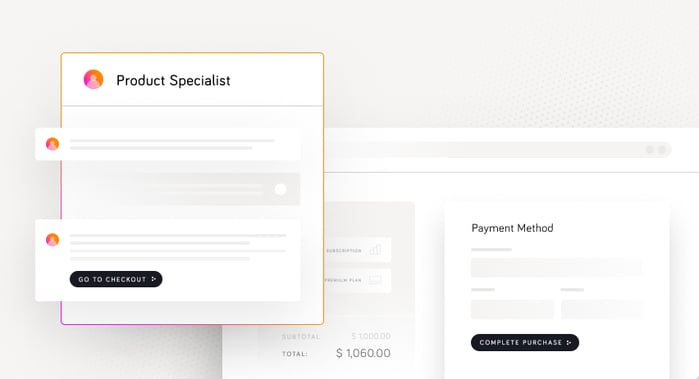 5 Key Benefits of Conversational Marketing
You create a more human buying experience.
You learn a ton about your buyers and customers.
You convert more leads and better leads.
You shorten your sales cycle.
You grow your sales pipeline.
Drift is the worldwide leader in conversational marketing. We incorporate Drift into our ecommerce flow here at cleverbridge. We help our B2B software and SaaS clients use Drift to easily connect with buyers via chat, video, voice or email to build trust and accelerate revenue.
The results speak for themselves. By delivering a more efficient and exciting customer experience, Drift customers have shortened their sales cycles by up to 20% and are moving qualified leads through the pipeline three times faster.
We recently implemented a conversational marketing process for one of our enterprise B2B software clients and it has made a powerful impact. The company is projecting an ROI of up to 300% and has seen:
19% increase in traffic volume to the buy page

23% increase in e-commerce revenue
Increase in self-service customer support

When working with our clients, we apply Drift's "Conversational Framework" to engage, understand, and make recommendations to give customers better buying experiences.
Engage
You can use conversational marketing to engage site visitors where they're on your website. Depending on what context they're viewing, you may start with a question like "Want to know a secret?" drawing them in to interact with you. If a customer is viewing a pricing page, you can acknowledge where they're at and offer support in finding just the right product for their needs. You may even recognize where they were referred from in your initial engagement, "I see you're visiting us from LinkedIn." The engage stage is the time to hook your customer and draw them closer.
Understand
Now that you have their attention, you can use conversational marketing to understand their needs. After you've engaged a visitor on your pricing page, it's time to gather more information. How many licenses are they looking for? What capabilities are they interested in? How price sensitive are they? Understanding your visitors helps move them to the next stage of the playbook.
Recommend
Thanks to a customized conversational framework, your visitor has laid out exactly what they are there to do. Now what? Your personalized bot experience is set up to give them exactly what they want. If they still need more info, direct them to an informative product page. If they'd like to speak with a sales representative, a live person can drop right into the chat – or visitors can book a meeting instantly. Are they satisfied and ready to buy? Here's your chance to link them to a pre-selected shopping cart page – the ultimate frictionless route from site visit to checkout.
This is just the tip of the spear of what you can do with conversational marketing. When our clients start using Drift in conjunction with cleverbridge, we walk them through the process to set up the precise structure that seamlessly aligns with their buying process.
After mastering visitor engagements, we expand to targeting potential buyers, accelerating deal cycles, and growing customer value. Before long, conversational marketing will transform the entire way that you engage with your customers, from the first visit to the first sale to multiple connections throughout the customer lifecycle.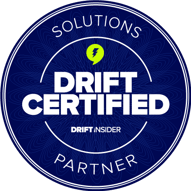 Do you catch our Drift? cleverbridge can transform your B2B buying experience with conversational marketing. Let's talk about how we can help you get started. We are a Drift-certified partner (check out the badge), and we're happy to share the tips and tricks we've learned along the way.
Contact our Growth Services Team to learn more about conversation marketing and to find out how we can help you increase traffic, drive customer acquisition, and retain customers.