OpenView Operating Partner Kyle Poyar joins us for the second time in this Q&A to share his expertise on product led growth and usage-based pricing. We explore his views about this powerful approach to consumerizing the B2B sales process that has propelled the dominance of the Cloud in today's computing environment.
Kyle leads OpenView's Growth Team, responsible for advising portfolio executive teams on strategies to increase revenue growth and dominate their markets. Kyle is a leading authority on product led growth (PLG) strategies used by successful technology vendors like Atlassian, AWS, Datadog, Snowflake and Zoom to grow their customer base and revenue.
But first, a quick introduction to PLG...
PLG is a disruptive "business strategy where product usage serves as the primary driver of user acquisition, conversion and expansion." PLG accelerates customer acquisition and reduces customer acquisition costs."* PLG relies on the product itself to drive growth.
Forward-thinking tech companies are seeing the success of PLG and rapidly incorporating it into their product and go-to-market strategies.
Kyle's recent research shows that among PLG companies and the broader SaaS index, those enjoying the most success increasingly employ usage-based pricing. Kyle's research explains why usage-based pricing is so effective, and why investors are rewarding these companies with valuations five times that of the broader SaaS index.
Check out OpenView Partner's "What is Product Led Growth?" blog post for a complete rundown of PLG.
Some brief highlights from OpenView's 2021 Financial & Operating Benchmarks Report
To date, Product Led Growth (PLG) has created more than $208B of market value and continues to grow exponentially.

OpenView's Product Led Growth index has outperformed the SaaS index by almost double from January 2020 through September 2022.

Most SaaS companies are still experimenting with PLG, with just 23% of respondents reporting that PLG is fundamental to their business

Across all layers of the tech stack, usage-based pricing has moved from fringe to mainstream, now used by 45% of SaaS companies (up from 34% in 2020). Usage-based companies continue to outperform their peers, enjoying best-in-class CAC payback and Net Dollar Retention (NDR).

YoY revenue growth of companies that use usage-based pricing +38% vs SaaS.

Doug: Kyle, it's great to have you back on Talking B2B. From the perspective of investors and the C-suite, what's driving so many companies to deploy product led growth (PLG) strategies, companies like Atlassian, Datadog, and Snowflake?
Kyle: They'll be more successful than their peers. Valuations compound over time as we have more public companies following a product led growth strategy. Companies like HubSpot and ServiceNow that have pivoted to product led growth, are growing faster and are valued at higher multiples than their peers. All that adds up to a healthy market cap.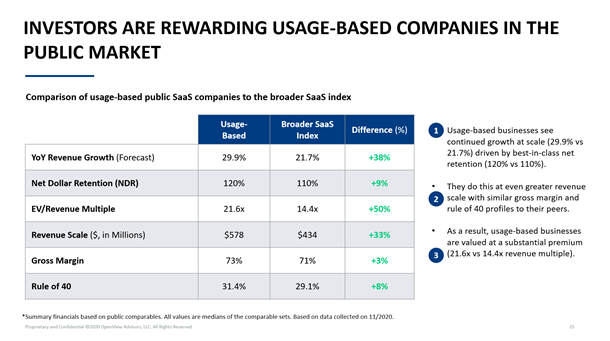 Source: OpenView Blog
Doug: What about in terms of net dollar retention?
Kyle: Well, that's the idea, right? Many of these companies are more bottom up in their approach and so they tend to have better net retention. Some of this is tied to product growth. Some of it is tied to usage-based pricing. But if you look at companies that have IPOed in the last three years, like Snowflake, JFrog, Fastlane, Smartsheet, Slack… all of them have some element of product led growth strategy. And they see great net retention as a result. It's not a cure all for every vendor, but it is a kind of an overall macro-level trend.
Doug: Could you drill into what you're seeing emerging now in usage-based pricing?
Kyle: In the past, it would have been challenging for a lot of companies to adopt usage-based pricing, as they wouldn't have had the product data readily available to all the teams who need it, including visibility to customers in the app. It's difficult to implement and calculate. Companies also have to set up Financial Planning & Analysis (FP&A) to manage forecasting in a way that is less predictable than a subscription business.
I talk to people all the time who say they can't do a usage-based model because investors really value committed recurring revenue. They don't want anything that's going to be viewed as one-time revenue or non-recurring.
I talked to public investors about this as well, and they see a usage model as indicative that there's no shelfware within a customer – they only pay for what they use. And that means they're paying when they see value for the product. That's a great vote of confidence that customers will continue to see value over time. If the usage pattern within an account looks like it's recurring, or on the aggregate it grows over time rather than shrinks, especially across all your customers, investors tend to treat it as if it's recurring. And you have the additional benefit of it being a higher quality recurring revenue.
In public markets, companies that have a usage-based model are growing faster than their peers on average, and they have a higher net retention. But even more than that, their enterprise value as a multiple of current revenue is 50% higher. So, the argument that investors don't care how you grow revenue is just not true anymore. The value of a product is increasingly tied to metrics that are not strictly related to the number of users. I think value is becoming more connected to usage-based metrics than traditional seat-based metrics.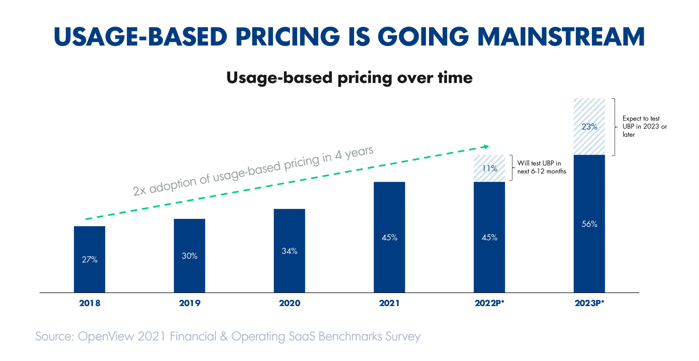 Doug: You can eliminate barriers to adoption because you've lowered the price or made it free to start. Customers pay as they go, so the cost to the customer is aligned with value. Would you say that is accurate?
Kyle: That's the summary. However, there are a lot of nuances. In many cases customers pay as they go, or not a huge commitment level to get started with the product. But larger customers are probably going to get into a committed subscription. Eventually, they're going to want some of that peace of mind. But they grow into it over time. And you're not incentivized to oversell them a greater commitment than they need. You're trying to think of yourself as a business, that's not necessarily monetizing on the commitment, but monetizing on the usage. So, for some companies, an over commitment that's not consumed is seen as a bad thing internally versus a good thing.
Doug: Your research highlights that as vendors shift to PLG and especially usage-based pricing, their revenue concentration becomes much different with a so-called "whale tail" of customers. What do you mean by this?
Kyle: Unlike a traditional subscription business, you have a lot more people entering the funnel. And many of these customers end up paying a little bit, but not contributing a whole lot in terms of revenue. And then some scale dramatically. For example, Snowflake has roughly 170% net retention. They have customers who start at $1,000 annually and end up at a million dollars per year – or even more.
It's like you're making a portfolio of bets. You want to enable the whole portfolio, because it's hard to predict which of those bets is going to pay off. So, you need to make sure they're all supported – even if it's using more automated or high-volume measures versus account managers or CSMs. A subset of these customers will take off and grow dramatically. Then you can have more high-touch engagement model for these customers. It's about managing both kinds of high velocity, high volume and these whales that end up growing with you over time.
Doug: In a usage-based model, how much of your energy is still focused on driving customer renewals?
Kyle: I would say, there shouldn't really be a renewable conversation in a usage model. Every single day, you must earn the right that the customer is going to come back to the product, or you're not going to (from a long-term standpoint) make money as a business.
You know from day one that you must make sure customers are successfully adopting and implementing your product. You must monitor their usage behavior on a constant basis and deliver proactive resources to help them discover new ways of getting value. If you do that the right way, customers spend more because they're more successful, and they renew at a higher rate. Renewal should never be the focus; it should be overall value and consumption of the customer.
Doug: For acquiring new customers, what is more successful -- sustainable free versions (freemium) or free trials?
Kyle: The goal is to deliver value to the customer before they hit a paywall in your product. For some companies where the time-to-value for the customer is fast, a free trial might be an appropriate technique. But increasingly, I see the direction towards freemium models in the market.
And even the GoDaddys of the world are introducing freemium versions. Now for the first time, after 20-plus years in business, GitHub lodge is free for teams. Atlassian also recently shifted all of their products from free trial to freemium in the last year, year and a half.
Free trial is sometimes the best steppingstone to get into a freemium model. A free trial can be a way to leverage product led growth to improve customer experience. You need to think about the right staging for how you're going to get there.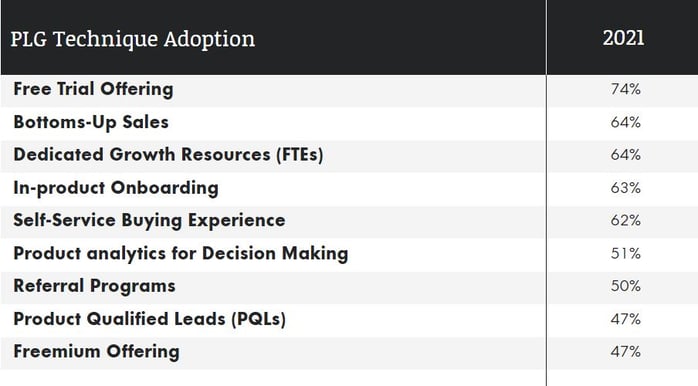 Doug: Any examples of traditional software or hardware companies that have made a successful transition to PLG?
Kyle: Absolutely. A few examples that come to mind are Nutanix and HubSpot. There's a number of companies that will maintain both approaches. I think where it can work best is taking a specific product line, perhaps an acquired product or a brand-new product, and test some of these PLG approaches. Then apply the learnings broadly across the portfolio.
Before At HubSpot made their core marketing product freemium and product led, they had a sales product that was partly based on an acquisition, so they started there. They were able to test the learnings and figure out how to drive value quickly. That worked so well that they made a commitment to turn all their products product lead eventually. They did not start with a rapid disruption to hundreds of sales reps and core business.
Doug: For a traditional technology vendor to be successful in PLG, is it an all-or-nothing approach or can they offer both PLG and traditional enterprise sales-led approaches for the same products and customer segments?
Kyle: I think it's best to have a consistent approach as a company if the target customer is the same. Otherwise, there can potentially be a lot of tension. However, there are some companies that have different product lines for different buyers, and different target companies with different value propositions. They're acting like two separate companies anyway, so there's not as much of an organizational issue to maintain two separate models.
Also, with product-led businesses, there generally is still some kind of a traditional enterprise sales motion. For example, if a CIO or CTO is wanting to buy Datadog, an OpenView Portfolio company, services. They want a demo. They also want to ask a bunch of questions as part of a thorough evaluation, and eventually buy at a six or seven-figure contract size. They don't have to go through this bottom-up approach. It's not the norm, I would say. But you want to be able to offer a model that aligns with how your customers want to buy. And that, I think is increasingly product led, but it's that's not the only way. It's more about providing flexibility and improving the customer experience.
Doug: Do you find that most successful PLG companies are internally organized differently to promote collaboration across product, sales and marketing to enhance customer experience?
Kyle: Yes, some of the key nuances are using metrics that are less sales-process focused. So instead of measuring MQLs and sales qualified opportunities, think about it from the buyer journey perspective. Users discover a product. They activate the product, which is the point where they not only start to use it but see value. They convert, and then they expand. So, if you're thinking about that journey… every team – sales, marketing, product, you name it – should influence that entire customer journey.
Each department will have primary swim lanes. For example, marketing will probably be more on the discovery phase and can use tools like personalized event-driven emails to get someone who has started the product to activate as well, or to discover new ways of using the product. Use full lifecycle marketing to improve the customer experience.
PLG businesses often have a dedicated growth team – sometimes called product growth. These teams are not traditional demand generation or sales-focused teams. They are more product minded. They look at where are there are gaps in the customer experience or drop offs in the buyer journey. Then they design and run rapid experiments. They hand off those experiments to the other teams to incorporate those learnings for much a better experience overall. I find these growth teams are a great connective tissue to embed these product led practices into other functions.
About Kyle
Kyle leads OpenView's Growth Team, responsible for advising portfolio executives on strategies to increase revenue growth and dominate their markets. He specializes in pricing and packaging strategy, which is the most effective yet overlooked growth lever at a SaaS company's disposal. He's an expert in product-led growth (PLG), go-to-market strategy, usage-based business models and SaaS benchmarks. Subscribe to his newsletter, Growth Unhinged, at kylepoyar.substack.com or Find Kyle on LinkedIn.
Kyle offers a highly informative and concise newsletter on all things PLG that we strongly recommend. You can subscribe for free here.
Resources
Kyle and OpenView offer a plethora of great content on PLG, such as these reports and blog posts: