Kyle Poyar, VP of Growth at OpenView and expert in product-led growth (PLG), joins us in this Q&A to share his views about this powerful approach to consumerizing the B2B sales process that has propelled the dominance of the Cloud in today's computing environment – such as the services of Shopify, Zoom, and Atlassian.
On October 14 2020, OpenView announced it closed $450 million for its new, sixth fund, focused on PLG investments.
WHAT IS PLG?
PLG, used by many of the fastest-growing software companies like Slack, Atlassian and Zoom, is a disruptive "business strategy where product usage serves as the primary driver of user acquisition, conversion and expansion." PLG accelerates customer acquisition and reduces customer acquisition costs.*
PLG is critically relevant to most B2B software and cloud-based product companies. If you are not using PLG, now is the time to consider it since there's a good chance some of your competitors are already taking advantage of PLG and could disrupt you.
Some quick facts on PLG:
The enterprise value of publicly traded PLG companies now exceeds $200 billion.
PLG companies are growing at 29.7% YoY – vs. 16.8% for the broader SaaS index.
PLG companies are trading at a 21.3x multiple of TTM (Trailing Twelve Months) revenue – vs. 14.6x for the broader SaaS index.
For PLG companies, inside sales is the most popular sales channel and used across all customer segments, accounting for >50% of company ARR. In the SMB customer segment, the largest sales channels are: 40% from inside sales, 15% self-service, and 21% a combination of inside sales and self-service.
Checkout OpenView Partner's "What is Product Led Growth?" blog post for a complete rundown of PLG.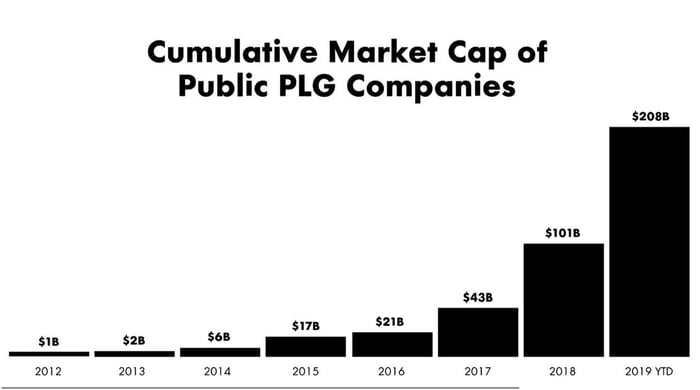 Source: BUILD: PRODUCT LED GROWTH: THE END USER ERA: https://cdn2.hubspot.net/hubfs/366266/BUILD_Ebook.pdf
Doug: What is product-led growth (PLG)?
Kyle: Product-led growth is about using product analytics or customer data instead of revenue operations to try to accelerate the time to close within the product funnel. In addition to making your value proposition clear to the C-Suite, you also have to be able to make your value proposition clear to the end user.
You're trying to do it in the product funnel. What is your product funnel? It starts with your website and the customer sign-up to get into activation. Step one: when you deliver on your value promise. Step two: after activation users are doing activity in the product that shows readiness to buy. This is a Product Qualified Lead (PQL). These insights should be made readily available to your sales team. All of this is data-driven.
Data is fundamental. With PLG, you're constantly running experiments. Both in terms of improving the product time to value and adding sales touchpoints to the sales process and customer success engagement.
Doug: Which companies would you highlight as being particularly effective in using PLG to acquire customers?
Kyle: In terms of time to value? Slack. It is an extremely intuitive product – with a high conversion rate. People love it – they start using the product extensively, but then they hit the message limit.
But what I find even more fascinating are those products in which you have to take more time as a user. For example, when we have to integrate data. Airtable does an incredible job at this. They don't overwhelm you with process. – feels impressive.
Shopify is another great example. The onboarding is very personalized. They really get to know the user. The product experience is customized to where the user is coming from. Shopify has taken what is typically an IT problem, and made it relevant to a non-technical person, such as the owner of a SMB business.
Doug: I love Evernote and use it all the time. I keep getting asked to upgrade to a paid version. However, the freemium version works well enough and I don't want to give up my free account, so I've never upgraded. How would you suggest a company like Evernote to be more effective at converting someone like me into a paying customer?
Kyle: First of all, Evernote, like most top freemium products, has some things in common:
1. The free product has value proposition that solves the pain points of the everyday user.
2. There is a compelling event at a specific point in time. For example, Zoom has a 40-minute limit on meetings of two or more people in their free account. This is a really clear point in time. If you have a business meeting with a client, you don't want to have to explain to them that your session has reached a time limit. You're going to pay for the premium account. And then with Slack as a freemium user you go hit your message limit. It's like this 'oh s*** moment.'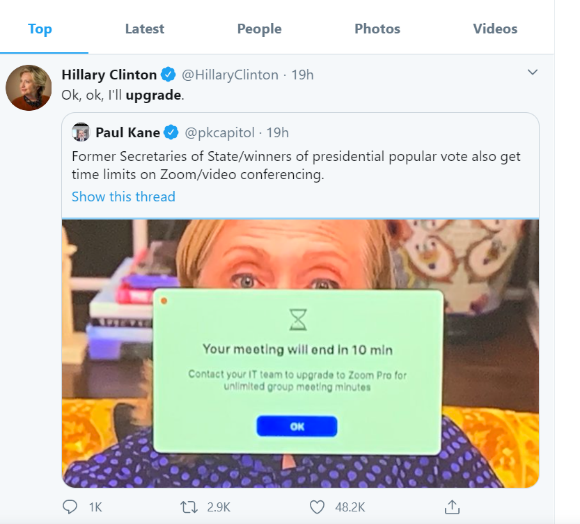 Doug: In terms of using the PLG approach to expand a customer relationship who would you highlight as doing a good job?
Kyle: My favorite model is usage-based. Datadog, an OpenView portfolio company, is a monitoring service for cloud applications that charges on post volume. The user usually starts with a small need or test, and Datadog does a phenomenal job of bringing in lots of people who discover use cases. The business naturally scales.
Doug: What's a good example of a company using PLG at the renewal event?
Kyle: Even if the product does not use self-service, one of the best ways is to leverage telemetry. What is the best way to identify and shape customer experience? A lot of people talk in terms of Customer Health Scores, but this is really just a lagging indicator. And by the time you measure it, it might be too late. You're probably using after-the-fact indicators that tell you the customer was already planning to leave, and might be too late. In terms of renewals for most companies, it's the first three to six months that matter the most in driving adoption and renewal. And there are probably no more than three to five activities that are essential to measure:
1. Usage
2. The number of people using the product
3. Integrations
Doug: What are some of the biggest reasons companies might not be successful in taking a product-led growth approach?
Kyle: First challenge: If the product experience doesn't fit with a product-led growth approach. The product needs to be able to deliver an end-user value proposition. Secondly, a lot of companies dip their toe into PLG and don't go all the way. They need to make a commitment to getting it right.
Doug: So can you teach elephants to dance? Have you seen any legacy software companies with on-premise applications learn to implement PLG successfully?
Kyle: Using on-premise or open-source software is going to be more limited in your capabilities, but there are still aspects of this data gathering and insights-driven approach that you can benefit from.
OutSystems, founded in 2001, would be a good example of succeeding. Their solution is targeted to Fortune 500, traditionally sold as an enterprise application. A few years ago they added a free offering. It was experimental, but ultimately became important to customer acquisition. The freemium product allows the customer to do testing, and then the user pays to go online. Their approach drives greater growth and more efficient customer acquisition.
For traditional on-premise software, PLG will be technically harder to implement, but you can still leverage some of the principles and capture some customer data.
Doug: Does PLG mean you don't need salespeople anymore?
Kyle: The best PLG businesses solve end-user pain, distribute where those users live, make it easy to get started, deliver value before the paywall, and then hire sales last. But they do hire sales! This sort of discipline leads to a top-notch product experience and unparalleled time to value, which is the healthiest foundation to layer on more concentrated sales and marketing investments.
Sales teams drive growth by catalyzing faster expansion within existing customers, improving free to paid conversion, increasing deal sizes, and offering a better customer experience for prospects who need more help.***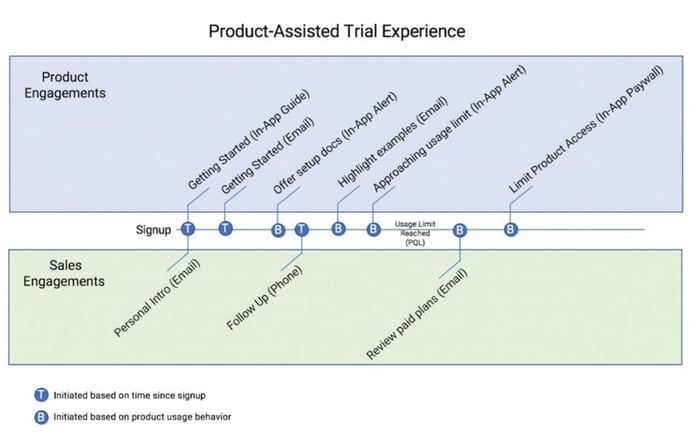 About Kyle
Kyle Poyar is VP Growth at OpenView Partners. Kyle helps OpenView's portfolio companies fuel growth and become market leaders. Specific areas of interest include: product-led growth (PLG), pricing & packaging, go-to-market strategy, SaaS benchmarks and value-add in VC. Before joining OpenView, Kyle was a Director at Simon-Kucher & Partners, the global marketing and strategy consulting firm known as the world leader in pricing. Over the course of six years he led consulting teams on strategy engagements with market leaders in enterprise software, business information/data services, digital media, online marketplaces and telecommunications. Find Kyle on LinkedIn.
References:
*(Fanning, Sean, and Poyar, Kyle, "2019 Expansion SaaS Benchmarks", OpenView,

https://openviewpartners.com/expansion-saas-benchmarks/

)

** Pg. 30 of 2019 SaaS Metrics doc by OpenView

*** Source: Poyar, Kyle, "Your Product Sells Itself. Now Hire Sales." OpenView Partners,

https://openviewpartners.com/blog/product-led-sales/

****

Source: Kaufman, Travis, "Product-Assisted, Growth: The Best Kept Secret of Product-Led Companies" pg 105; BUILD: PRODUCT LED GROWTH: THE END USER ERA:

https://cdn2.hubspot.net/hubfs/366266/BUILD_Ebook.pdf

Additional OpenView Resources on PLG:

"2019 EXPANSION SAAS BENCHMARKS":

https://openviewpartners.com/expansion-saas-benchmarks/#report

"BUILD: PRODUCT LED GROWTH: THE END USER ERA:

https://cdn2.hubspot.net/hubfs/366266/BUILD_Ebook.pdf