Providing your customers with their preferred payment options is crucial to success for any online business, particularly when it comes to B2B consumers. Research shows that 48% of B2B cart abandonment stems from consumers being unable to pay with their preferred payment option.
This statistic underlines that B2C buyers are presented with a plethora of payment options, including credit cards, digital wallets, and even cryptocurrencies. In contrast, B2B buyers struggle to find their preferred payment option, and the reality is that 90% of B2B transactions still take place offline. As perplexing as it sounds, 25% of B2B transactions in the US are still paid by check, with 20% of these being technology-related purchases – staggering, considering that Gartner expects 80% of B2B sales interactions between suppliers and buyers to occur in digital channels by 2025.
Credit card payments currently make up the majority of B2B online payments. While they certainly serve a purpose, ACH or Automated Clearing House has established itself as a viable and more attractive alternative for B2B buyers and sellers. ACH is the natural successor to the archaic check system, is cheaper than traditional payment methods, is processed faster, offers more security for merchants and buyers, and leads to fewer chargebacks.
ACH has established itself as the go-to B2B payment method in the US, with almost 20% YoY growth and a volume of $9.35 billion in online payments in 2022. ACH processes payments over an electronic network connecting banks directly with one another versus being routed via a third party. According to recent PYMTS research, ACH is the preferred payment method for the SMB segment in the US.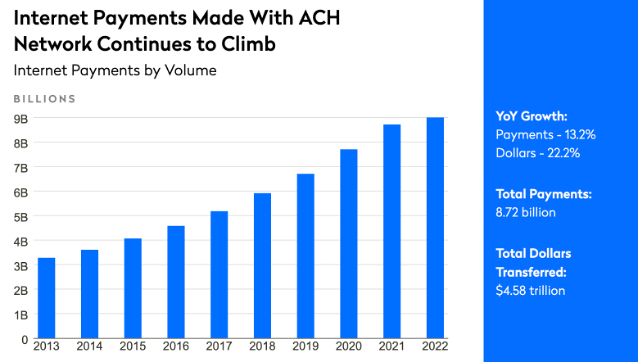 Why should you consider adding ACH to your payment setup?
Customer satisfaction: It is easier for the end user, requiring only a bank account to get started, and there is no payment limit
Cost: ACH is cheaper than traditional payment methods for the end customer
Speed and efficiency: It gets processed quicker – 1-2 working days.
Security: It leads to less fraud and chargebacks.
Popularity: 20% YoY growth - ACH is the B2B payment method in the US
Suitability for B2B: ACH is more suitable for larger ticket B2B purchases - orders paid with ACH have an AOV 84% higher than those paid with credit card
If you're already selling online but only offering credit cards as a payment option, you are likely missing out on some B2B customers, and you're involuntarily leaking revenue–ultimately negatively affecting your conversion rate. Don't miss out on the 48% of B2B buyers that did not complete a purchase for their companies because their preferred payment method wasn't an option.
It's time to get on the ACH train – next stop, increased B2B customer lifetime value and revenue growth.