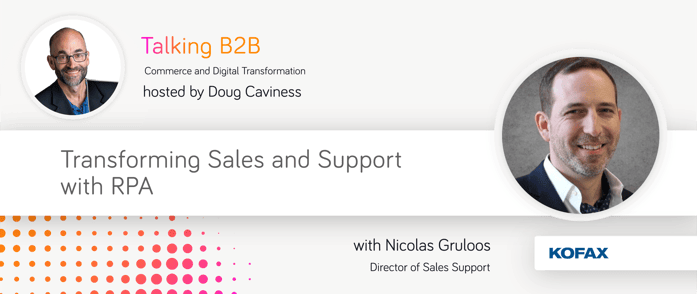 Kofax Director of Sales Support, Nicolas Gruloos joins us in this Q&A to share his expertise and insight on the benefits of using robotic process automation (RPA) in sales and support activities. Automating highly repetitive front-office tasks reduces friction, saves hours of work, and increases employee satisfaction.
But first, more about Robotic Process Automation and Kofax
RPA is an $1.89 billion industry expected to grow at double-digit rates through 2024.[1]
Kofax is situated as a Challenger in the 2020 Gartner Magic Quadrant for RPA.
Kofax has more than 25,000 customers using its Intelligent Automation software platform, which helps organizations transform information-intensive business processes, reduce manual work and errors, minimize costs, and improve customer engagement.
Kofax clients include American Express, J.P. Morgan, Borusan Cat and Humana.
Learn more about RPA in our Talking B2B interview featuring Bain & Company's Ted Shelton. It explores how RPA is changing the entire B2B sales ecosystem.
Doug: To what extent is RPA being used to automate or otherwise remove friction in the buyer/seller experience?
Nicolas: At Kofax, we have a SaaS offering and use robots to prepare customer quotes. We can go beyond predictive analytics, and not only identify that there is a customer who needs additional volume or has consumed more than they should have – we can also apply business logic to identify upselling opportunities.
So, with the predictive analytics tool, you typically go to a dashboard and eventually export into Excel. But with RPA, you can have a robot assigning a task to an individual, preparing a quote, and filling in all necessary fields in your CRM. With this automation, we reduce the risk that, for example, the customer's production stops because for some reason a license expiry notification did not get through.
Another interesting case is an RPA robot that complements our customer service with the ability to take immediate action when customers require technical assistance, but their support contract is expired. So normally, what would happen when a customer's maintenance contract is up, we would verify internally, send an email to a specific team, and that would just take some time. But with this robot, we can, depending on the criticality of the case, get feedback from the contract renewal department and get the right people involved immediately and effectively. Sometimes there is zero disruption to the process itself.
Using RPA in both of these cases is 10 times faster than a manual process.
Doug: Was your first example a usage-based model where there could be overages and you might want to upsell the customer to a bigger commitment in a contract?
Nicolas: Yes, our SaaS is licensed on the number of pages extracted and on access to some features. If customers consume more, we will want to know it, so we could get back to them. RPA is very flexible, so you can adapt to any business case.
Doug: In that case, how many different applications does the robot have to manipulate?
Nicolas: So, the robot would connect to the licenser system, which has all the info about contracted volume, start date, end date, and legal entity names. It would also connect to the CRM to understand who would be responsible from a sales perspective and link that opportunity to the account owner. The robot just needs to know to whom to assign the task. Then it could eventually access a third database — a flat table that helps the robot make a connection between these three.
It doesn't need to be complex. As the robot is used more and more, we will want to enhance it. Sometimes you want the robot to interact with a human before it effectively creates the quote. It can interact via email, for example, and send an email to the user. Then the user would reply, yes or no, or assign a task.
"RPA is probably the only technology that allows a business organization to be truly disruptive. You do not need to code. You only need IT for basic system infrastructure. And it takes just a few days to put together a robot in production."
Doug: When you think about the next three to five years, how prevalent will RPA be in our lives in the front office?
Nicolas: It is an increasingly growing market with an extremely high prediction on market growth, according to Fortune Business Insight. RPA is predicted to grow of at a CAGR (Compound Annual Growth Rate) of 20% within five years – from $500 million to $2 billion. So, a huge evolution – huge growth.
RPA is probably the only technology that allows a business organization to be truly disruptive. You do not need to code. You only need IT for basic system infrastructure. And it takes just a few days to put together a robot in production.
The pandemic led to a substantial change in the way we work. We're much more dependent on technology, and an IT project takes too long to coordinate and deploy. It is going to be critical for all companies to have RPA solutions in place. RPA does not replace a traditional coding solution. I think companies that have a transversal team able to deploy RPA robots are better fitted to compete in the market.
Doug: And it sounds like it does not require a substantial new investment, because they're leveraging most of their existing infrastructure, right?
Nicolas: Exactly. It's just software on a server that would connect to different systems.
Doug: If you think about return on investment, like the two projects you mentioned, or others you've seen, how long does it typically take to complete a project? And what kind of payback are companies typically seeing from that investment?
Nicolas: Two years payback is typical when you include all the costs of incremental robot development, as well as the cost of the software, maintenance, professional services, and setting up a team. As a first step, you'll need to identify your RPA software, deploy it, and train your employees. So, considering that you have all this already, a robot can take just two or three days to be developed and deployed in production. If the requirements are more complicated it will take more time, but usually, the robots that I'm developing are deployed within three days.
When you consider the investment in time, also consider the cost savings that are integrated into your return-on-investment analysis. Usually, the biggest cost saving is FTE saving. Not that you eliminate employees, but you allow them to do something else. In addition to saving on FTEs, you also save on costs of errors avoided due to regulatory constraints (which can be above seven digits), reduction of Days Sales Outstanding (DSO), collection of payments, and intangible elements including increased customer satisfaction and lower employee attrition, which are indirect cost savings.
Doug: To your point, I had an interesting conversation just yesterday with a chief revenue officer, and we were talking about implementing automation to assist them with accounts that had 100 or fewer employees. And she said, job number one – more than anything else – even more than cost savings – is to free up the bandwidth of account executives and allow them to focus on larger accounts. It's not about laying off employees, it's about helping them be more productive and work on higher-value activities.
Nicolas: Exactly, yes. That's effectively what it is. And your use case is very interesting. People are hungry, and there's definite interest.
"When identifying manual tasks that can be automated, one indicator is using legacy systems that are difficult to interconnect."
Doug: What might be some high-level indicators someone might see that would tell them they should consider RPA?
Nicolas: When identifying manual tasks that can be automated, one indicator is using legacy systems that are difficult to interconnect. Because effectively,10 years ago, back when RPA was not called RPA, that software was designed to interconnect legacy systems.
What will be interesting in the future is when business organizations are motivated to seek a rapid digital transformation of their process. Because, again, RPA is so fast that you don't need a three or six-month project plan. Developing an RPA robot simply requires pure logic and knowledge of the business processes to automate. So, a business user can quickly get to speed following a one-week, self-paced online training. It's the perfect solution for business organizations that want to transform the way they are working by themselves, without much help from IT.
Doug: So, what's the best way to get started? Are there some resources you'd recommend?
Nicolas: Well, the first thing would be to download a trial version of the software. It's very accessible. You don't need to know any coding, and there are some robot templates available on the marketplace that can be reused.
Doug: What are some of the biggest challenges to overcome for company leaders?
Nicolas: The first challenge is the traditional fear that the robot will replace the worker. Another major challenge is to find the right champion for your RPA project. You need someone who knows the process that you want to automate – and its weaknesses. It's also helpful for that champion to have some technical background.
Since RPA robots are doing the same tasks that humans would do, they need to be managed. And so, according to my experience, you will need one person to maintain from 50 to 100 active robots. It's not something that you just deploy in production and then leave. The robot will eventually need to adapt when there are changes in the process. When businesses realize the significant value that a robot brings, they usually transform more processes to RPA.
Doug: What is it like to manage robots?
Nicolas: How does it work? You don't speak to them, but you can get them to speak to you. They might send an email, such as an error message. When you design the robot, you know how the process works, and you know what could go wrong. So, you would create an exception handling that sends an email with an indication that helps you understand what's happening. It could be a text indication, or it can be retrieved directly from the system that you're connecting to. Sometimes when there's something wrong, I will suddenly get thousands of emails. Managing a digital workforce is a 24-hour a day job.
"What motivates me is automating the low-value processes that are highly repetitive and annoy employees."
Doug: Yeah, because robots don't stop. As someone who has worked in RPA already for seven years, what excites you the most when you look ahead to the future?
Nicolas: What motivates me is automating the low-value processes that are highly repetitive and annoy employees, the ones from the long-tail. Things that can simplify the life of your colleagues – this is what intrinsically motivates me.
There are also high-value processes, complex processes where people are involved. But I like to tackle small projects – processes that can be automated in a couple of hours. This removes unnecessary friction and increases employee satisfaction. I'm usually contacted when automation is too expensive to build with traditional coding. It's exciting because you can get a solution in just a few days.
About Nicolas Gruloos
Nicolas Gruloos is a Sales Support Director at Kofax, the leading supplier of Intelligent Automation software for digital workflow transformation. Nicolas has more than 20 years of experience in sales operations and technical support. He currently leads Kofax's EMEA and APAC Sales Support teams, helping sales executives to maximize time spent selling by providing support on administraive functions and by being the primary link with all back-office functions. Nicolas has an Executive Master's Degree in Business Administration from IESE Business School and is based in Barcelona, Spain. Find Nicolas on LinkedIn and Twitter.
[1] Gartner Says Worldwide Robotic Process Automation Software Revenue to Reach Nearly $2 Billion in 2021